Why SIPs are Crucial to the Future of the UK Construction Industry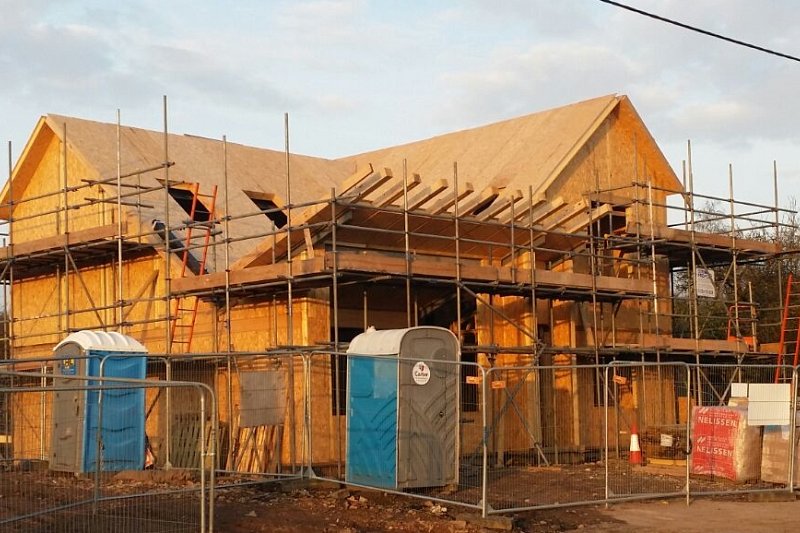 Lowe Build have long known and promoted the benefits of SIP construction. This article by panel manufacturers, Hemsec, highlights the importance of SIPs in the industry.
Lowe Build have a dedicated Structural Insulated Panels (SIPs) factory and have completed a host ofprojects using our SIP system.
SIPs are engineered panels used to construct walls, ceilings, and floors. Either, as a material for Modern Methods of Construction (MMC), such as offsite manufacturing, or a replacement for traditional construction materials such as framing lumber and insulation.

SIPs are relevant and crucial to building new homes and industrial and commercial premises. The benefits cover their cost-effectiveness, speed of build, safety, durability, flexibility, energy-efficiency and ability to improve overall build quality
Urgency for

alternative building materials
The UK construction industry is in a state of transition. New housing stock is needed urgently; particularly affordable homes. Successive governments have similarly failed to live up to targets pledged. The need for more commercial and industrial building is also well-publicised.
Yet the construction industry has been failing to meet these needs, due to a combination of factors. A chronic shortage of skilled labour, the unpredictability of British weather, and arguably the biggest factor – an unwillingness to change.
Advertisement
Now, however, the changes are beginning, and architects, developers and contractors are all considering how to adopt Modern Methods of Construction (MMC). The House of Lords Science and Technology Committee report 'Off-site manufacture for construction' recommends a presumption in favour of MMC when granting planning permission for new developments.
SIPs throughout the world
MMC requires not only new methodologies but also different materials. Whilst SIPs are not new (they were first developed in the 1950s and '60s), growth in their use in construction in the UK follows widespread usage and predicted growth throughout the world, and is to be welcomed for a variety of reasons.
Let us now consider the benefits of SIPs in greater detail, each of which together demonstrates the significant contribution SIPs can make in the future of UK construction.
Flexibility in Building Design
Designed and custom-built
Those unfamiliar with new building technologies tend to confuse SIPs buildings, with last century's rather ugly, prefabricated constructions. SIPs enable the creation of buildings where design possibilities are almost endless.
Complicated shapes can be produced economically using SIPs. Each building can be uniquely designed and custom-built to architect or designer-provided specifications.
The unique design flexibility of SIPs enables town-planners, along with their architects to create buildings to complement local styles, needs, and trends.
The super-eco building benefits
The ultimate environmentally-friendly product
One of the major qualities of SIPs is that they are an environmentally-friendly resource. Their facings are made from renewable, farm-grown trees. This means that these components do not contribute to environmental degradation, making them an obvious choice for construction companies that care for the future of our planet.
Economic advantages across the project
A shell constructed from SIPs is erected much faster and, therefore, more economically than a conventional shell. They enable builders to complete their part of the building project quickly and to provide a safe, weather-protected environment for other trades to carry out their work.
And not being weather-dependent, the project is much easier to plan and complete, which also reduces cost and uncertainty.
Unbeatable insulation values
Insulation values for SIPs are vastly superior to conventional framing and insulating methods, as a building constructed with these panels is virtually airtight. Occupants have excellent control over the interior environment without the problem of draughts and irregularities in air temperature. To be precise: In a building constructed with SIPs there are none of the hot and cold spots found in homes built with conventional building materials.
As well as reducing the cost to the occupant of heating fuels, a key advantage of using SIPs in the construction of homes is that they produce far less waste than buildings constructed from conventional materials as there is a reduction in harmful gases released from burning waste as well as a reduction in the need for landfill space.
Longevity of Finished Buildings
Before a SIPs building is constructed on-site, it is important that its component parts are packaged correctly and are transported and stored safely.
Handling SIPs
During construction, the SIP structure is likely to be exposed to poor weather conditions and may become wet.
When general precautions are followed this is not an issue for SIPs. If any panels do get wet, it is important to ensure that they are allowed to dry thoroughly. Panels should not be tightly wrapped in plastic, but loosely covered to promote the movement of air and drying.
Repair and Maintenance of SIPs
As with any construction method, the long-term performance of the building will be largely dependent on repair and maintenance as necessary.
Because of the longevity and durability of SIPs, the strength of SIPs buildings are proving legendary around the globe.
They can withstand hurricanes, tornadoes and earthquakes. Provided the installation remains weather-tight and all maintenance is carried out properly, a life of at least 60 years may be expected for SIPs buildings
Building quality
Straighter and flatter walls – a key benefit
Not only are SIPs buildings faster and easier to erect than conventionally constructed buildings, but they also have straighter and flatter walls. Industrially manufactured, SIPs are not subject to the inconsistencies of man-made construction.
This means that interior and exterior walls which are made of SIPs, are straighter and flatter than hand-built, rendered walls. This unique aspect reduces the requirement for onsite adjustments – which means little or no snagging.
Resistance to damage
Using SIPs to construct the exterior envelope of the building creates an extremely tough, durable barrier to the elements for the protection and comfort of the building's occupants. SIPs buildings are capable of resisting hurricanes and tornados in storm-prone areas of the world. In Kobe, Japan in 1993, an earthquake devastated a large area of the city, but houses built with SIPs came through it virtually unscathed.
A technically superior product
SIPs are extensively tested for Structural, Acoustic and Thermal properties, including Fire Resistance. The results of these tests are verified by the Eurocodes.
The CE Mark Certification process classifies SIPs as a System 1 product ensuring that during audits there is a strong focus on Factory Process Control (FPC) processes.
Hemsec is BS EN ISO 9001:2015 certified, quantifying our quality management system and demonstrating our ability to consistently provide products and services that meet customer and regulatory requirements.
Mechanical resistance and stability
SIPs provide unbeatable strength, mechanical resistance and stability; they are strong, reliable, durable and suitable for all walls, roofs and floors in domestic, industrial and commercial construction.
Assessing mechanical resistance and stability
Hemsec adheres to the European Technical Assessment (ETA) document, specifying precisely the rigorous tests followed as part of the Factory Production Control (FPC) process.
SIPs panels are manufactured by sandwiching together a core of rigid closed-cell polyurethane foam (PUR) insulation bonded to the two OSB skins. This bonding makes them intrinsically strong, air and water-tight.
The six elements to verify mechanical resistance and stability are:
1. Horizontal load capacity for walls
SIPs are composited structurally insulated panels, pre-engineered and carefully designed to withstand vertical and horizontal loads.The load bearing ability of SIPs derives from the strong, structural bond between the three layers.
2. Vertical load capacity for walls (with or without eccentricity)
Under the Eurocodes our industry-leading panels generally provide a vertical loading capacity of 80kN/m.
3. Combined vertical/horizontal load capacity
Although SIPs are relatively light, they have the ability to bear high loads as a result of the strong structural bond between the layers.The load supported by SIPs is conveyed to the ground by the OSB skins, with the structure held in position by the fully bonded insulation core. SIPs can therefore bear considerable vertical and horizontal loads with reduced internal studding.
4. Racking load capacity for 150mm thick walls:
SIPs provide a stable racking resistance for modular buildings and can reduce the overall frame of the module. In addition, by using SIPs it is possible to reduce some of the components of the frame (e.g. the amount of cross bracing) or sometimes remove the external frame of the module.
Panels demonstrate racking resistance of 13.9 kN for an example panel height of 3 metres.
This determination of the racking strength of walls constructed using SIPs is a measure of a building system's ability to resist wind loads.
5. Fixing capacity
SIPs are fixed with either nails or screws. Both fixes provide sufficient strength although screws are stronger and recommended.
6. Roof structural capabilities
SIPs are equally as strong and effective for use with roof systems. A SIPs 125mm panel thickness, a panel span of 3.0m and a roof slope of 60° has Panel Design Capacities of 5.04 k/N.